CH MACH5 PACH Castlehill's When Sparks Fly Of Cuardach RN MXG2 MJG2 MXP2 PAX MJP2 MJPB MXF T2B FCAT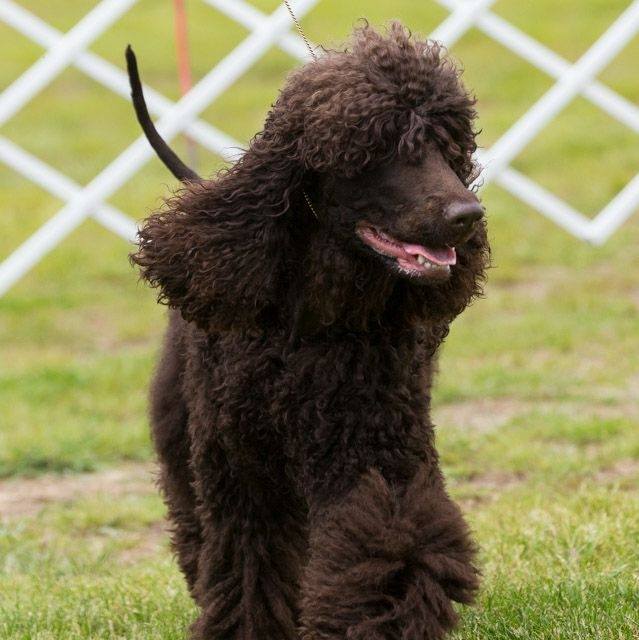 Flare is out of Joshua (CH Castlehill's Fynder Joshua CD BN RN TDI CGC) and Ruby (CH Castlehill's True Magic). Born May 21, 2015 and co-owned with her breeder, Susan Tapp.
Flare is a granddaughter of my boy Clark.  When I found out Sue Tapp (Castlehill Irish Water Spaniels) was breeding Ruby (Clark's daughter) to Joshua and the timing seemed to be right to get my next pup, I couldn't resist. Ruby had 6 beautiful girls and 2 boys.  I was lucky enough to be able bring home Flare to live with us.  
Flare reminds me a lot of Clark in how sweet she is. She is also very pretty. She has a beautiful head, outline, angulation, coat and is an overall pretty picture. Flare finished her breed championship in grand style. Her first points was a 5 point major over bitch specials going Best of Opposite on March 5, 2017 at the Maryland Sporting dog shows. She then won a 4 point major on August 2, 2017, a 5 point major on August 4, 2017 (supported entry) and finished with single point win on September 8, 2017. Flare was awarded Top Winner's Bitch for 2017.
Flare also excels in agility.
Flare is the #1 preferred IWS qualifier and #2 regular IWS for the 2023 AKC Agility Invitational
Flare earned her PACH agility title on June 27, 2023, six months to the day I started running her in prefrered.
Flare earned her FCat title on Sunday, May 28th.
Flare earned her MACH5 on October 28, 2022.  This is the 2nd highest number of MACHs any IWS has earned.  The most is by her grandfather Clark at 9.
Flare was the top ranked IWS for the 2022 AKC Agility Invitational
Flare had a great 2021 AKC agility invitational running clean 3 out of 4 runs.
Flare earned her MACH4 on November 29, 2021
For the 3rd year in a row, Flare was the #1 IWS qualifier for the 2021 AKC agility invitational in Orlando, FL in December.
For the 2nd year in a row, Flare was the top IWS in agility and had the most double Qs (2019 & 2020)
Flare earned her MACH3 on February 13, 2021.
She earned her first MACH at 3 years of age on January 19, 2019 and earned her MACH2 on January 26, 2020  
At her first AKC agility invitational in 2018, Flare had 3 clean rounds and ended up 2nd IWS just behind Glider
Flare was the #1 qualifying IWS for the 2019 and 2020 AKC Agility Invitational and Flare won the Top IWS medallion at the 2020 AKC Invitational
She qualified for the 2020, 2021 and 2022 AKC agility nationals
Flare was the top IWS in agility for 2019 and had the most double Qs
Flare also loves FastCat. She has earned her BCat and then earned her DCAT on June 18, 2021.
Flare is OFA Hips Good, Elbows Normal, Shoulder Normal, Thyroid Normal, Cardiac Clear, Eyes Normal. CHIC #124403. Here pedigree can be found by clicking here. While beautiful and Flare has all of her health clearances, I decided not to breed Flare after she was diagnosed with Paroxysmal dyskinesias (PD). It is a movement disorder that while it doesn't affect her day to day life, I couldn't risk passing it on to her pups.