GCH CH MACH9 PACH Cuardach Blaze The Trail CD RE JH MXS3 MJS3 PAX MXP2 MJP2 MXF T2B WC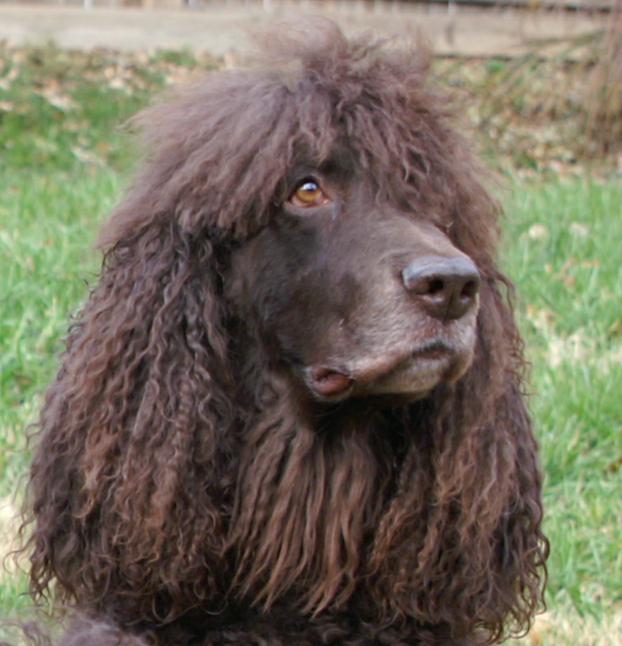 Clark was out of Scout (CH MACH PACH4 Madcap's Way To My Heart UD RE JH PAX4 MXP10 MJP10 XF WC) and Casey (Am/Can CH Catwalk's Special Case Am/Can CD RA JH)  April 11, 2006 - February 5, 2019
Clark is from my first litter.  I bred my girl Scout to Casey (co-owned by Lonnie Sparkes and Marian McLeod). Scout had 6 females and 1 male.  I went into this breeding wanting a male so when he was born, I knew he was the pup I would be keeping.  He was the sweetest boy, he was bold but not over the top, and he loved everyone he met.  He is an incredibly gentle soul.  He loved puppies and small dogs. Everyone who met Clark was quickly charmed by his character and he was a great breed ambassador.
Clark was a very handsome boy.  He was the first pup in the litter to earn his breed championship at 2 years of age. He won Select Dog at the 2012 IWS national specialty after just turning 6 years old.  I decided to continue to show him and in a few shows, he finished his grand championship by winning 5, 5-point majors.  Clark earned best of opposite in veteran sweeps and an award of merit in regular breed at the IWSCA regional specialty held on August 2, 2014.  Clark won top veteran dog at the 2015 IWSCA national specialty in Rhode Island.  
Clark did it all - agility, field, conformation, and obedience.  He is totally bird crazy and he loved to retrieve.  I could never keep him out of the water and he earned his junior hunt test title with relative ease.  Clark earned his novice obedience title (CD) and Rally Excellent titles.  Clark earned the IWSCA All-Around medal and Quintessential Award.
Clark absolutely loved agility and that is where we spent most of our time.  He made a great debut in AKC agility going from novice to excellent in less than 6 months.  At the tender age of 3 and after running for less than 1 year, Clark earned his MX and MXJ titles and he earned his first MACH at 4 years old. Clark went on to earn a total of 9 MACH titles, the most any Irish Water Spaniel has achieved to date.  I moved Clark to the preferred class after he earned his 9th MACH where he earned his PACH on August 7, 2016.  Clark made the finals at the 2013 AKC Agility Invitational, the first IWS (along with Glider the same year) to ever achieve this.  Clark was the #1 IWS in agility for 2011, 2012, 2013 and 2014. Clark won the IWSCA award for top agility dog in 2011-2014 and earned the Mole End Double Q trophy for the most double Q's 2011-2015. Clark was the IWSCA Top Preferred Agility dog in 2016.
Clark is OFA Hips Excellent, Elbows Normal, Thyroid Normal, Cardiac Normal, and CERF.  CHIC #51686. You can see Clark's pedigree by clicking here.