CH MACH PACH4 NATCH Madcap's Way To My Heart UD RE JH PAX4 MXS MJS MXP11 MXPC MJP12 MJPC XF NFP WC O-EAC O-EJC S-ECC S-TN-E TG-E WV-E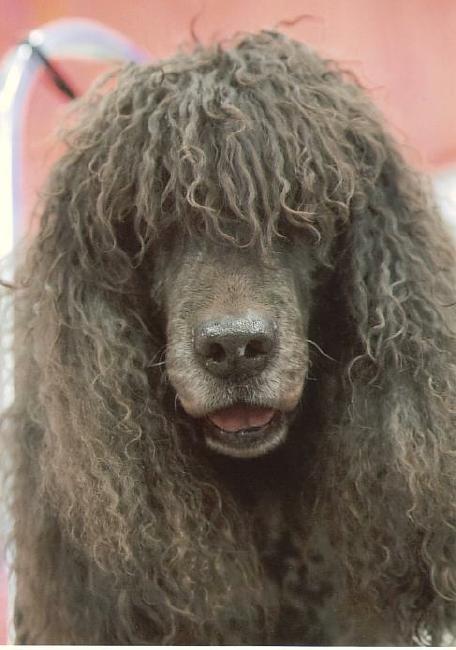 Scout was out of Jack (CH Castlehill's Fynder's Keepers CD) and True (BISS CH Madcap's Brilliant Virtue CD).  June 10, 2001 - May 9, 2013
Scout's litter was bred by Betty Wathne (Madcap Irish Water Spaniels) and co-bred by Susan Tapp (Castlehill Irish Water Spaniels).  The theme of the litter was "heart" and I came up with her registered name because Scout quickly found her way into my heart.
Scout was sweet, outgoing, confident, and always happy.  She loved to meet people, dogs and she loved everyone.  She always wanted to be with me, followed me everywhere, and was happiest when were doing something.  She was very biddable, trainable and intelligent.  She gave everything her all and loved to learn.  But most importantly, she was my companion.  She was constantly by my side and was the best snuggle dog.
Scout was beautiful. She earned her breed championship with 4 majors including going Winner's Bitch and Best of Opposite over bitch specials two days at the Wine Country circuit shows in 2003 and finishing her championship at the same circuit going Winner's Bitch. Scout was Top Winner's Bitch for 2003.
Scout earned many performance titles in obedience, agility and rally.  Scout was my first and only UD titled dog in obedience.  The utility level is the highest level and she earned her UD title in only 5 tries and she got 1st place every time she qualified.  
She also earned her IWSCA working certificate and her junior hunter title.  Scout earned the IWSCA All-Around medal and Quintessential Award.
Scout earned her MACH in July 2009, PACH3 in July 2011, and PACH4 December 31, 2011.  Scout was ranked #3 preferred agility dog all-breed for 2011 and #8 lifetime as of 12/31/11.  Scout as earned her NADAC NATCH and was the first IWS to have achieved 2 agility championships in two venues.  Scout was the top IWS at the 2009 AKC agility invitational and she attended the 2011 AKC agility nationals where she placed 3rd in the first round.
Scout was OFA Hip Excellent, OFA Elbow normal, OFA Thyroid normal and has been CERF'd.  Her pedigree can be found by clicking here.
I bred Scout to Casey (Am/Can Ch Catwalk's Special Case CD RA JH) and she had 7 pups, 6 girls and 1 boy on April 11, 2006.  I kept the boy and he became Clark.  He was the first in the litter to earn his breed championship just after turning 2 years old.  Three other dogs from that litter also achieved their breed championship and they are Megan, Seeker and Birdie.  I bred Scout to "Tyler" and on March 30, 2008, we had 5 boys and 4 girls.  I kept the pink girl out of this litter and she became Glider.  I am very proud of Scout's puppies from both of her litters whether they be show dogs, performance dogs or fabulous companions for their families.  Scout had 5 champion get which makes her an IWSCA top producing bitch.