MBIS MRBIS NBISS MBISS GCHG CH Poole's Ide Sargeant Sloane CD RN MX MXJ MXF T2B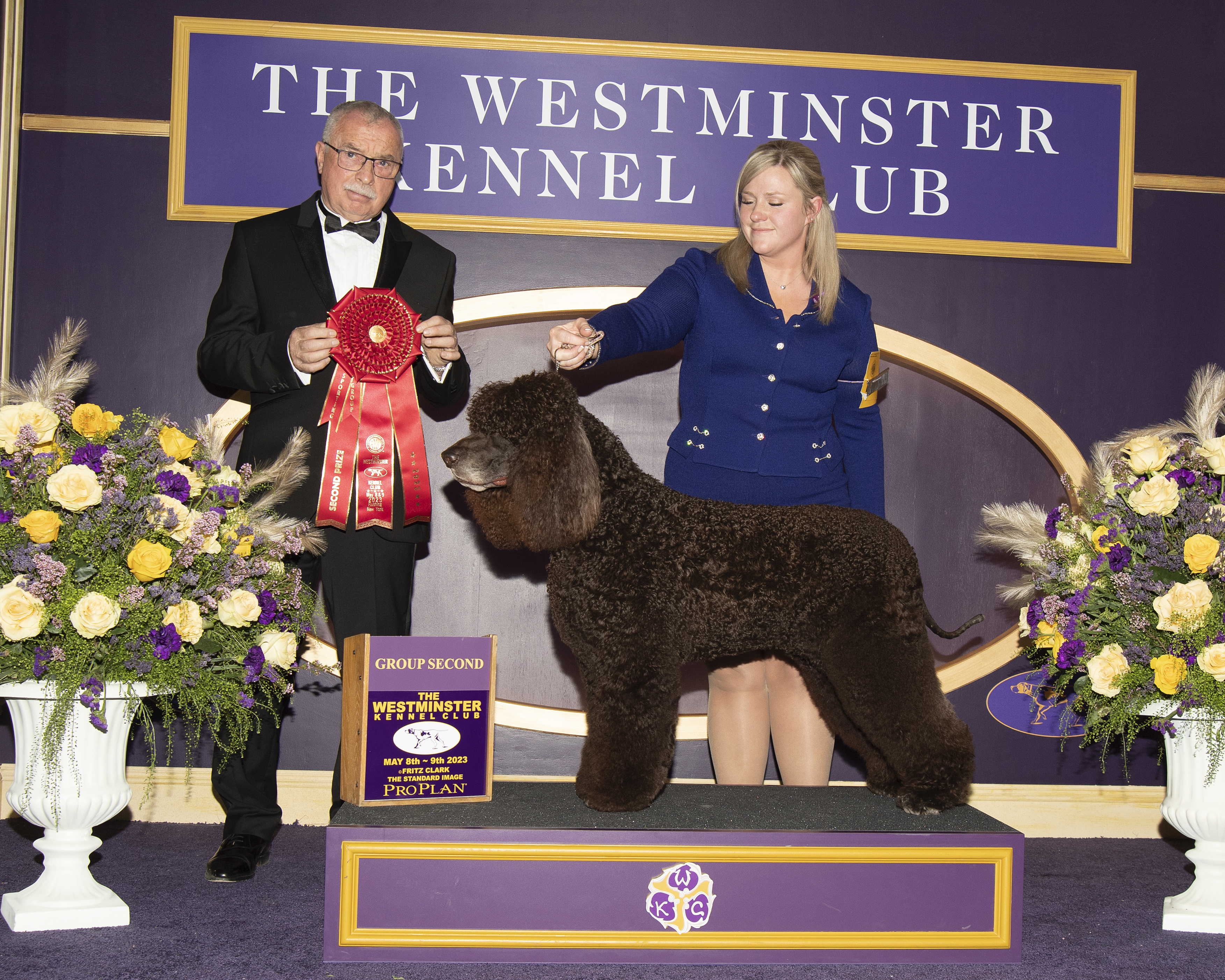 Sloane is out of Rowdy Heckler (SHCM Fynder Rowdy Heckler) and Maura (CH Poole's Ide First Night). Born June 6, 2017 and co-owned with his breeder Greg Siner.
The stars aligned and all fell into place to have Sloane come into our life.  I contacted Greg Siner of Poole's Ide Irish Water Spaniels as I have loved many of his dogs over the years inquiring about getting a puppy from him.  Greg ended up getting Sloane back from his owner in early June 2019 and reached out to me if I would consider a 2 year old. While an adult dog wasn't top of mind, I met Sloane at a dog show and I was super impressed with his unflappable nature and temperament. He is super friendly and loving on top of being very handsome. I loved his structure and breed type. Sloane settled in quickly and became a great member of the house.
Sloane is a very handsome boy and now holds the best in show record for Irish Water Spaniel dogs. He is within breed standard for height and he has lovely bone and tons of body and rib spring. He is balanced and has nice rear and front angulation, a deep forechest, low set hocks and nice bend of stifle. He has a beautiful coat, long and low set ears. He has a lovely head and nice hazel eyes with no yellow.  He has powerful, gorgeous movement.
Sloane has been very successful in the breed ring.  He finished 2022 as the #1 Sporting Dog in the country, #1 IWS breed and all-breed, and #8 all breeds.
Sloane won back-to-back best in shows on June 17-18, 2023.  The win on Sunday, June 18th broke the all-time best in show record for Irish Water Spaniels dogs.
Sloane best in show at the Greenwich Kennel club show on June 10, 2023
Sloane won Sporting Group 2 at the 2023 Westminster Kennel Club show
Sloane won Best In Show all three days at the Lums Pond cluster held in Bear, Delaware April 27-29, 2023
Sloane won back-to-back Best in Shows April 15-16, 2023 at the Rhode Island Kennel Club shows
Sloane earned his Gold Grand Championship on March 29, 2023. He is the first in the history of the breed to have achieved this title.
Sloane won his 100th Sporting Group First on February 25, 2023 and then he went on to win Best in Show at the Rockland County Kennel Club show in West Springfield, MA.
Sloane won Best in Show at the South Windsor Kennel Club show on November 25, 2022
Sloane won Best in Show at the Salisbury Maryland Kennel club show and the Mispillion Kennel Club shows in Salisbury, Maryland November 11 and 13, 2022
Sloane won Best in Show at the Old Dominion Kennel Club show on November 6, 2022
Sloane won Best in Show at the Kanadasaga KC show at the Wine Country circuit under best in show judge Robert Hutton
Sloane won his 20th Best in Show on September 24, 2022 under best in show judge Nat Horn.
Sloane won 3 Best in Shows and a Reserve Best in Show in Belivedere, IL July 2022.  
Sloane won back-to-back Best In Shows in West Friendship, Maryland July 9-10, 2022
Sloane won Best In Show all three days in Lima, OH July 1-3, 2022!
Sloane won two Best in Shows at the Maine shows in June 2022. One under Sue Goldberg on June 24th and the other under judge Barbara Dempsey Alderman on June 25th
Sloane won Best in show at the North Shore Kennel Club show on June 17, 2022 under judge Frank Kane
Sloane won the breed and made the cut in a highly competitive sporting group at the Westminster Kennel Club show on June 22, 2022
Sloane won Best of Breed at the 2022 Irish Water Spaniel national specialty under judge Frank Kane
Sloane won Best In Show at the Ladies Dog Club, Inc. show held in Wrentham, MA June 4, 2022.  He won Reserve Best in Show on Sunday, June 5th.
Sloane won back-to-back Best In Shows in Bear, Delaware at the Wilmington Kennel Club shows.
Sloane continued his winning ways winning the Sporting group 13 consecutive back-to-back times.
Sloane has had a fabulous start to 2022 winning multiple Sporting Groups including four (4) back-to-back Group 1 wins at the York, PA shows March 17th-20th, 2022 in a super competitive and huge sporting entry.
Sloane ended 2021 as the #1 IWS all systems (breed & all-breed), #13 Sporting and #72 all-breed. He was #3 IWS owner-handled.
Sloane had 2 fabulous weekends in Springfield, MA. On Thanksgiving weekend, he won a Group 1, Group 2 and a Group 4. He won 4 group placements December 9th-12th, 2021 winning two Group 1's and two Group 3's.
Sloane won Best In Show on November 21, 2021 at the Wisconsin Kennel Club under Judge John Wade in a beautiful line up of dogs! He won Sporting Group 1 the day before under Judge Pat Trotter!
Sloane won Reserve Best In Show at the National Capital Kennel Club in West Friendship, MD on October 17, 2021 under judge Beth Sweigart.
Sloane won Best of Breed 3 out of 4 days at the Wine Country circuit including the supported entry and regional specialty. Friday's win finished his Grand Championship Bronze.
Sloane won best of breed at the Westminster Kennel Club show on June 13, 2021
Group Sloane won the Sporting Group at the Holland Michigan Kennel Club show in Kalamazoo, Michigan on Friday, May 29, 2021. He also got a group 2 on Saturday, May 30th and Monday, May 31st.
Sloane won Best in Show at the IWSCA regional specialty on May 3, 2021 and Select Dog at the National Specialty on May 6, 2021.
For 2020, Sloane finished as the #2 IWS in breed, #4 IWS all-breed and #3 Owner-Handled IWS.
Sloane has won multiple (Group 1, 2 and 3) Owner-Handled group placements including two Group 1 Owner-Handled placements at the Thanksgiving Cluster 2020 in West Springfield, Ma. Sloane won Best of Breed 3 out of 4 days at the Minnesota shows September 10-13, 2020 and one Best of Opposite win for 4 - 5 point Grand Champion majors and he finished his grand championship on Friday, September 11, 2020.
Sloane won Select Dog at the regional specialty on September 28, 2019 and Best of Opposite on September 29, 2019, both 5 point grand championship majors at the Wine Country circuit
Sloane won Winner's Dog on Friday, September 27, 2019 at the supported entry for a 5 point major, his first day of showing at the Wine Country circuit to finish his championship.
Sloane earned most of his breed championship points in just a couple of weekends of showing in July 2019.  
One of the main things I was looking for in my next dog was drive.  I love agility and I am thrilled with Sloane! I started an agility foundation course as soon as I got him and after only 3 months of training, Sloane was ready to run in his first agility trial. We only ran one day and he got a Time2Beat leg. What a thrill! I started to run Sloane more in agility trials in late February, 2020 after only 5 months of training and he quickly earned his novice standard and novice jumpers with weaves titles. He completed his Open JWW title on July 15, 2020 and completed his Open standard title on August 8, 2020.   He earned his Excellent standard (AX) and Excellent jumpers (AXJ) titles on September 26, 2020. He earned his first MACH points on October 11, 2020 and his first double Q on October 25, 2020. He earned his MXJ on January 31, 2021. Sloane earned his MX on March 28, 2021.  Sloane won the top IWS award for top novice, top open and top excellent for 2020. He earned his master Fast (MXF) title on January 1, 2022. He earned his Time 2 Beat (T2B) title on September 16, 2023.
Sloane earned his rally novice (RN) title May 15, 2020. Sloane earned his novice obedience (CD) title on November 22, 2020.  He was award the top novice obedience dog for 2020.
Sloane is OFA Hips Good, Elbows Normal, Cardiac Clear, Eyes Pass.  His pedigree can be viewed by following clicking here.